It's Sunday—Surgery is Wednesday.
I spent a little time looking at pictures of post-surgical incisions, just to get used to the concept.  I may not be ready, but I won't be surprised.
I also looked at a number of videos of tripawd dogs walking.  We've seen tripod greyhounds at various events we attend.  I have, anyway.  Fallon's dad doesn't notice, and we go to all the greyhound events together.  I guess this means they don't stand out as much as one may think they might.
Made a wise purchase—got Three Legs and a Spare and Loving Life on Three Legs—the bonus pack.  Best $20 I have spent—believe me, we have big bills coming, but this was a greyt investment.  It's provided all sorts of practical information, as well as links to important question-answering areas of the tripawds.com site.   I highly recommend these.
On Monday, chicken is on sale.  There will be more jerky!!  I'll clean the kitchen soon, it's easier to work in.  We fed all the jerky I made already.  We'll save this until Fallon comes home from her surgery on Thursday.  I should also get some frozen yogurt.  That's her favorite also.
I have hockey practice tonight.  I am going to go.  I've been trying to avoid live people–writing is easier than talking.  But I could use the exercise and the diversion, and I can't hole up here at home forever.  I dread people asking how Fallon is.  I know they care.  I want them to know.  But I'm afraid I will cry.
It's a little bittersweet.  We should have been at the beach this weekend, we would have been driving home today.  We canceled once Fallon's diagnosis was solid.  This weekend there's 2 events we (almost) never miss, a car one in Ocean City, MD and Greyhound Gathering in Dewey Beach, DE.  It's been fun—and sad—to see all the pictures of amazing times posted on Facebook.  We're lucky; we went with the grrrls to the beach in September—right before Fallon's diagnosis.  She was limping at that point, so we drove to the beach rather than walk every day (our hotel is a block away).  Here is Fallon, bravely watching the other dogs have fun: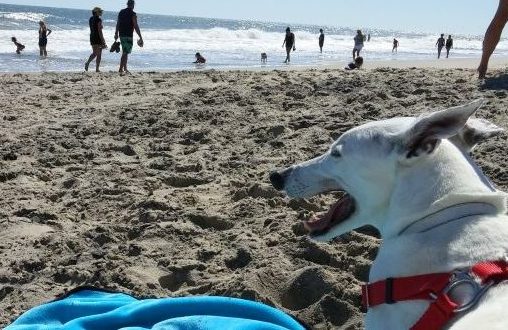 We have reservations to go back in the spring.  I envision Fallon on the beach on 3 legs, walking with us.
More to come…