Fallon turned 12 years old this week!!!  We wanted to celebrate hard, because honestly last Fall we weren't sure we'd ever see this day.  We've been through some ups and downs this week—more ups, thankfully!!
We saw Dr. Sue at the Veterinary Cancer Center on Tuesday.  We're on an every two month schedule now.  Tuesday it was really hot—like Africa hot.  Once we got there, Fallon went in for her x-rays and blood work, and was delivered right back to Maggie and me (Paul had to work).  They put us in a little exam room rather than the bigger waiting room.  Fallon historically gets a little bent out of shape at any doctor appointment, but she was in really rough shape—panting tons, temperature rising, drooling, and making a wheezy sound.  It was really scary, I couldn't calm her down.  Dr. Sue took her back again to the treatment area to give her oxygen and IV fluids, and cool her with wet towels, as her temp rose to 106.  I was in tears, really scared for my girl.  Thankfully, it wasn't long before Michelle came back to tell us Fallon was getting better, things were improving. (!!!)  I called our home vet, Sand Creek Vet to get Fallon an appointment for the next day so they could check her out also.  Fallon was doing well enough to go home (thankfully—the emergency vet was discussed), so we drove home. She did fine in the car, then once we were home all was normal—she laid down in her favorite spot and ate tons of treats, everything we gave her.
Next day, Wednesday, Fallon's birthday (!!!) we saw Dr. McDaniel at Sand Creek Vet and his feeling was that Fallon had some bad anxiety episode.  He prescribed Trazodone for before scary things like doctor appointments.  Fallon was her normal amount of pant-y while there, nothing extreme like the day before.  We got home, and received a call from the Veterinary Cancer Center—just checking in to see how Fallon was doing, but also calling to say FALLON'S X-RAYS WERE CLEAR AND BLOOD WORK NORMAL.  OMG.  OMG.  OMG.  Such greyt birthday news!!!  I always fret over the x-rays, have even considered not getting them, but ultimately, I think knowing, good or bad, is better than not.  Maybe some day I will change.
As it was so freakin' hot and Fallon was so overheated the prior day, we decided to go a little more low key on the birthday and spread the celebration over several days.  We had birthday cookies, turkey wings, liver treats and meat circles, jerky's still cooking so we have that to look forward to.  Fallon would always choose food as a birthday present, so we went heavy on that.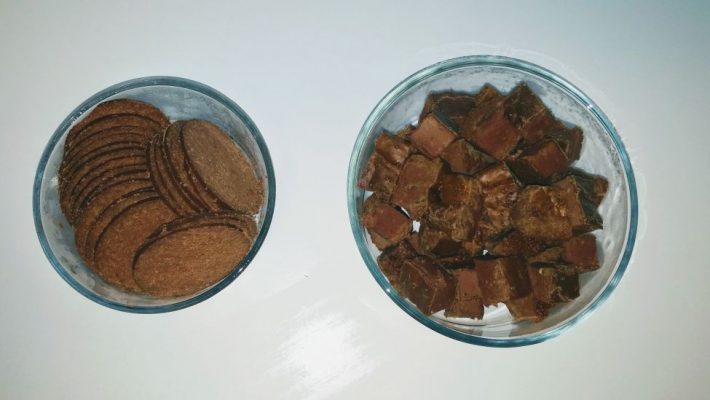 Meat circles and Liver Cakes
We gave Fallon a Big Barker Bed!!!  She's still getting used to using it, but that will come.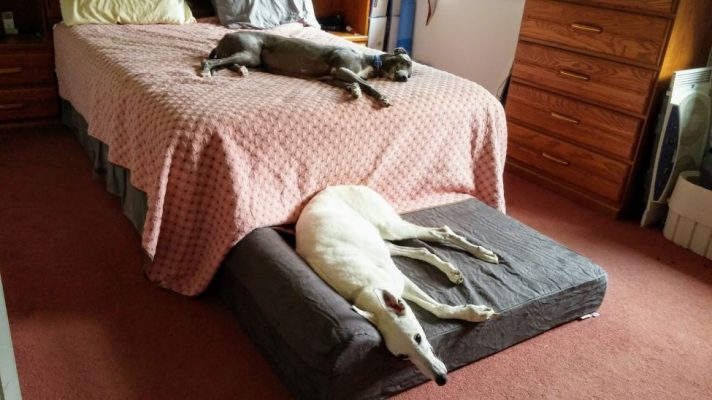 We have some more big celebrations coming up.  We're very close to Fallon's one year Ampuversary, just a bit more than a month away!!  I am so greytful she is doing so well.  Amputation was really the right decision in Fallon's situation, no regrets!!