My Girls are home.
They've actually been home for quite a few weeks.  I expected them back around Valentine's Day (I was going to surprise Paul) but due to the very bad snow in Seattle this winter, they were delayed a bit.  It was worth every minute of the wait.
I knew right away, when I decided we were going to go with Rainbow Bridge Hearts, what my girls' colors would be.  Fallon—red, pink and gold.  Fallon's color has always been red—when it wasn't pink.  As a white dog, she looks greyt in every color, but despite being drop dead gorgeous, girly pretty to me, she was often mistaken for a boy.  We suspect it was because she was a big girl (for a greyhound) and had the boxy head rather than the needle-nose.  So we often went with pink, girly collars and jackets for her.  It rarely helped.  The red probably started with a racing vest we got her to match her sister Willow's—we bought it in an auction, and it was red.  So red stuck as her theme color.
Willow was without a doubt to be green, gold, and brown.  Her coat colors were red and white, but red hair is more like a golden vibe—really pretty girl, my girl.  And her racing vest was green, so we often accessorized her with green.  She looked gorgeous in green.
Choosing the shape was not difficult.  I was drawn much more to the spheres than the hearts—don't know why.  But both my girls are clearly hearts.  We always said Fallon has nothing but love in her heart.  Can't put a sphere on that.  And Willow had a heart on her back.
No lie, so no choice to be made there, either.  Plus Paul was a fan of the heart shape.  Not a tough choice at all to make.
Rainbow Bridge Hearts was a dream to work with.  They hold your hand every step of the way so you know what to expect—they made it super easy.  You contact them, they mail you a kit with explicit instructions and everything you need.   They emailed us to confirm our girls arrived.  When their creation day was delayed, they also kept us in the loop, and assured us our girls were tucked safely in a warm, dry safe.  It was like they were on an extended visit with our new friends Rich and Erin.  They really understand how important this is, how sending your loves away in the mail in a metal box inside a cardboard box is rough, and how much out pets really, really mean to us.  Their compassion was really evident.  When the girls were on the way home, we knew it.  And the final result for both is breathtaking.  We also got the lighted stand for both because it just seemed like it would be really cool.  We were correct.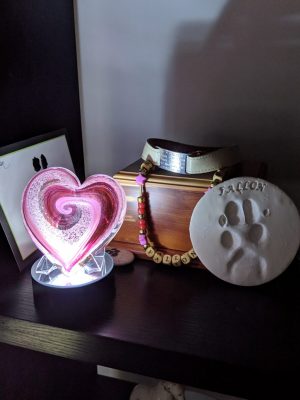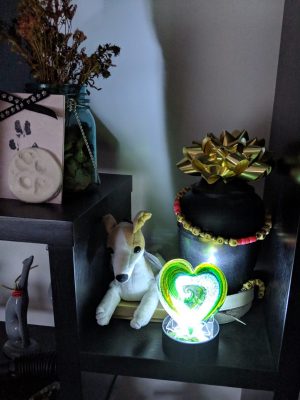 Most who read this blog may know *of* Willow—let me tell you more.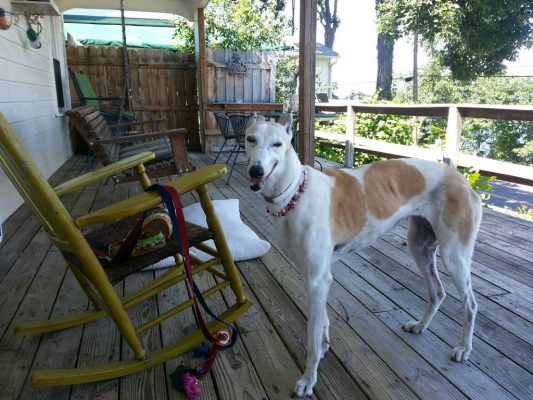 I met Willow at a rough time in my life.  Paul and I were living separately at the time.  I was looking for a dog and got semi-serious about a Jack Russell Terrier, and even more so about a big dark boy named Toad, a giant sized mix breed boy.  I never really chose Toad, but his adoption group felt he needed to live with a woman, so they chose me, told me we were perfect for each other.  I went through the home visit and we got along fine, but it didn't feel 100%.  However, I *wanted* to love him.  I decided to see him again at an adoption clinic the next weekend—and did.  Same.  Paul visited with me and right after that, he asked "Where are the greyhounds today?"
I fell in love with Willow online that summer, but she disappeared—she was adopted before I could meet her.  Weeks later, in the Fall, I met Toad, then went to the greyhound adoption clinic at Paul's urging, and Willow was there.  I immediately recognized her, she is a unique beauty.   Turns out she was adopted and returned—she got stuck in a kitty door while pursuing a cat.  The door needed to be removed to free her.  Shortest adoption/return turnaround on record, per our greyhound group president, the stuff legends are made of.  Things happen for a reason.  She was meant to be my girl.
Those who knew her would say Willow had a unique personality, especially for the normally laid-back, aloof greyhound breed..  She was the ultimate self-centered, drama queen.  She would hold her paw up when we took a walk, and I was supposed to—clean it, I guess.  I frequently never saw anything on or in her pads.  Our doctor could not find an issue.  Nonetheless, I was happy being her slave, I would give it a little massage and we'd proceed.  She could not move if the leash got between her legs, she would freeze and I would be expected to fix it.  Of course I would, I waited on her hand and foot.  She was my girl.
She always seemed happy to see the greyhounds when we'd visit her old group, and she was VERY excited when I surprised her (and me) when I brought Fallon home to live with us.  They coexisted peacefully, a greyt sister-pair.
I am 99% sure Willow also had osteosarcoma.  We lost her when she had a horrible broken leg, just out of the blue.  Our vet did an xray and we saw how the bone had deteriorated.  She was 13, and we had to make a decision then and there.  Even if I knew as much as I know now about osteosarcoma/Tripawd life, I don't think we would have gone the same way we did with Fallon.  99% sure, anyway.
Anyway, I digress.  My girls are home.  They are back with me.  They are beautiful, in a different way.  And while I'll never hold them or hug them again, it gives me some level of comfort to have them here, in heart-form.  Some comfort, not all I need.
I can't tell you how much I miss them.  No number's big enough.