Fallon has been gone since September.  It seems like forever.  Things are still going tenuously, sometimes OK, sometimes horrible—living without her still seems impossible, yet we're doing it.  Nighttime is awful, I have been sleeping with headphones on, piping noise into my brain so I don't have to listen to my thoughts. I can't stop thinking about her and second guessing everything we did.
Given that, I can't say I would change anything.  We made the decisions we did based on the best knowledge we had at the time.  Someday I'll blog on things we learned, though—if we ever had to go through this again, with the benefit of hindsight I may do things differently.  I have some really good thoughts to share.  Today I don't have the energy.  I intended to write something on Valentine's Day, just couldn't pull it off.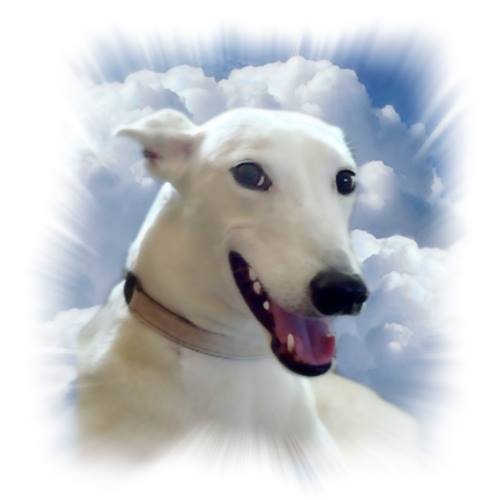 Paula started a forum topic on heart dogs—are they born or made?  I followed it closely, really wanted to chime in, just couldn't get my thoughts together.  And I can't answer. I think my bond with Fallon grew as a result of her diagnosis and having to navigate treatment together—but it was there before that too.  We were an amazing team, I just can't say what made us so perfect.  I have Maggie and Dani now, and love them dearly, but I don't feel the bond I did with Fallon.  I sometimes wonder how they would weather all Fallon was subjected to as a result of her diagnosis, while with Fallon, I had no question she would be all on board with whatever I came up with for her.
Fallon's been unpacked and downstairs for a few weeks now.  I had been having trouble moving her from in her paper box next to my bed to a more suitable place.  Eventually, I did it.  I dusted the spot I envisioned her staying, put her, in her wooden box with some of her mementos nearby—her ID tag collar, her beaded name necklace, her pawprint, in a spot of honor near her sister Willow.  It's been OK, but I don't feel the sense of accomplishment I thought I would.  And her wooden box is really ugly, it has unnatural streaks in the wood grain, like they should have used more stain.  We got the free box because nothing else in the catalog seemed suitable.  I will find her just the right thing.  As soon as it's nice out, I will put some of her ashes in the yard where she loved to spend her time more than anything–except cuddling, so if we cuddled there it was her favorite day.  She had a lot of favorite days.  And we're headed to Dewey Beach the first week of April.  She's going there, too.
I did order a Rainbow Bridge Heart to remember her—not that I would ever forget her.  Some of her ashes (along with her sister Willow's) are in Seattle right now, safe in a safe in a glass blowing studio.  They tell me their hearts will be created somewhere around February 22.  The date was delayed because of the severe storms in the Northwest.  I've been oddly worried, and miss my girls after mailing a small piece of them off.  The bulk of them is still here.  I can't explain it.  I can't wait until they are home.
I have a long way to go, still.  I trust things will feel better.  The slow progress is frustrating.  A piece of my heart is gone and will never come back.  Super crazy.  Working on it.