Rough day yesterday–It's been a year without our girl.  Hard to believe—it's been so slow and so painful, yet it flew right by.  And like most of our anniversaries, I dreaded the day.  Like everyone who loses their love, I miss Fallon horribly.  I will forever.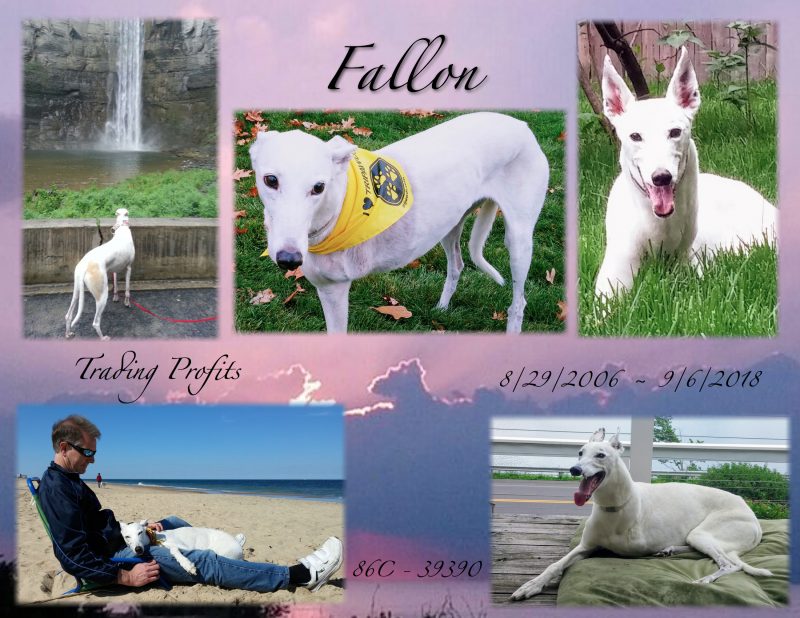 A long time ago I had a dream where she came to me.  I could feel her soft coat and her warmth, it was so real.  We cuddled and spooned and hugged all night, just like the good old days.  I keep waiting for that to happen again, but it hasn't yet.
Danica has been a comfort.  She is intuitive about my feelings and seems to know when I need a cuddle.  Her timing is impeccable, she knows exactly when I need company, a kiss, a smile.  She looks me straight in the eyes, just like Fallon, and I feel her in my soul.  I have no doubt she somehow has a bit of Fallon's spirit in her.  And Maggie's still Maggie—wonderful, loving, affectionate.   Always my girl and support.  And she also seems more Fallon-esque as time goes by.  She had an amazing role model.
We're going to Dewey Beach next week.  It's always been a favorite place of ours, especially Fallon.  We're taking some of her ashes to put on the beach.  It's definitely one of her two best loved places, our yard being the other.  Maggie and Danica also love the beach, just like Fallon.  They'll run and play just like she would back in the day.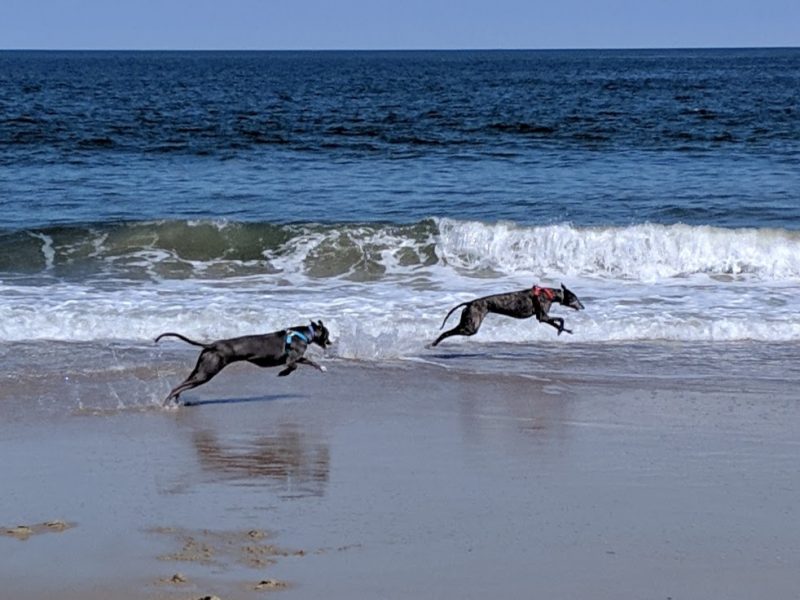 We just got a new car that Fallon would love—low to the ground so she could come and go easily, and lots of room in the back for a long car ride.  Not as much room for greyhound magnets on this one.  It will be good as our girls get older.
We were on our way to Myrtle Beach last year when Fallon got so sick.  It was the first time in the almost year we dealt with her illness that I felt really confident—like we had this.  Obviously, we did not.  We did not make it this year either despite planning to go because of Hurricane Dorian.  I was good with it, though.  We reworked our plans and went to Niagara Falls instead—another place we love to go, and have been so much that planning is done without much thought.
Some things have changed.  I stopped cooking them breakfast a while ago—I am lazy.  They're back on good quality kibble.   But I keep up with making healthy treats.
I'll always second guess the things we did for Fallon, decisions we made, approaches we took.  I frequently think about how we would handle it if another one of our girls had osteosarcoma.  I don't think I'll know until it happens.  If nothing else, I have a clue now, whereas we had none before.  Tripawds helped us figure out our path, and I'll always be grateful.  It's hard to visit, but we do check in now and then.  I do read blogs that catch my eye and scan the forums on occasion.  I wish I could be more support to others in our shoes.  Maybe someday.