We're back from our beach vacation.  It couldn't have been better—weather was wonderful, lots of dogs on the beach—it was greyt.   Dewey Beach is 24/7 dog friendly after September 15 every year, so that's when we plan to arrive.  It did not disappoint.
I brought along some of Fallon's ashes to spread.  Dewey was one of her favorite places on earth, and probably on the moon and heaven, too.  She loved the water and loved to run on the beach with us.  The second she hit the sand, I felt better—like she was with me, like she was happy, like she was home.  I can't explain the joy I felt immediately and wish I had brought her along sooner.  She'll always be a part of her favorite place now.  I also spread her sister Willow's ashes and felt elated they were together again.
I'm not one to enjoy just sitting, even on the beach.  I always need something going on.  This vacation was different.  There were a few windy days, which we needed for a break, but most days we took our shelter and gear to the beach and just hung out.  I took my Kindle, earbuds, and balls with the throwing stick for the dogs and had all I needed to relax.  Between reading, playing with the girls, swimming in the waves, and dog watching, it was all I needed.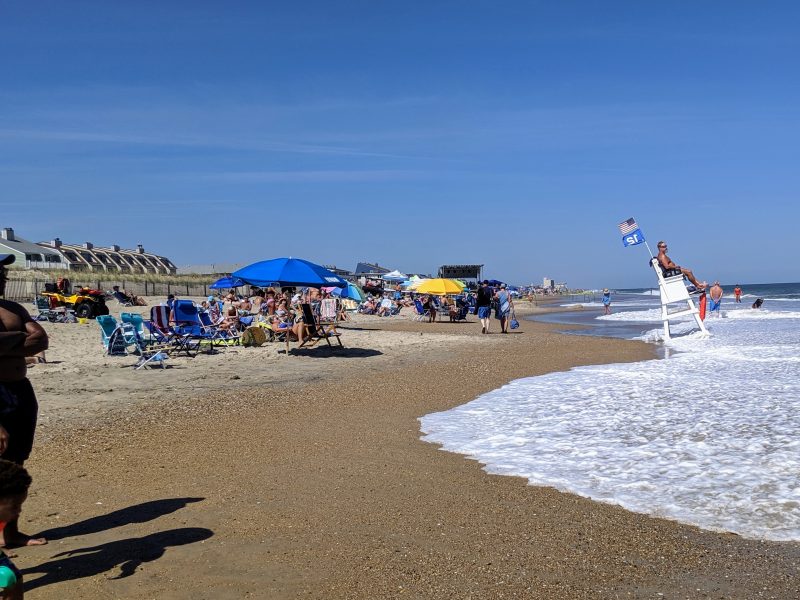 Crowded beach. The awesome lifeguard saved a little girl when we were there–we all applauded
We went to Rehoboth Beach for dinner—walked there and took an Uber back.  Our driver was a Turkish gentleman, and he had his iPad set up to watch music videos from his country while we rode back to our hotel.  On that short ride we heard some awesome music, and I took his referral for some other good Turkish groups to check out.  Between the waves crashing on the beach, the mesmerizing Turkish pop music, two dogs to cuddle and have fun with, and the feeling my Girl Fallon was by my side…oh gosh.  I haven't felt that at peace in a while.
We're back in the real world again now, but I'm still trying to hang onto that feeling—that paradise.  My Girl is always with me.