We got to Dewey Beach yesterday, but it was rainy when we arrived, so we didn't make it to the beach.  Today is a GREYT day for the beach, sunny, but a bit cool.
Paul carried Fallon a lot of the way there.  It's only a block from our hotel, but we wanted her to save her legs for the beach.
She still loves the beach!!  She ran and ran, once she accepted that it was cool with us.
We met up with some other people and dogs, she loved saying hello.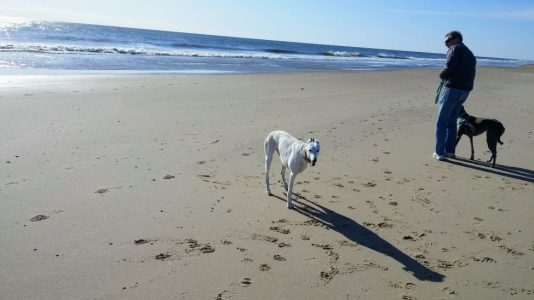 We didn't want to overextend her, although she was raring to go.  After about 15-20 minutes of fun, we headed back to the hotel.  We'll definitely go out again after she takes a good rest.
This trip is already a success, and we'll be here 3 more days!!  Cheers!!