Maggie's 6th birthday was yesterday.  We celebrated with yard time and special treats.  We made a fire and cooked s'mores for the two leggers.  The other seven legs had special birthday treats.
I made Meg's Liver Cake treats, which was in the Tripawds Nutrition Blog.  They came out greyt, and the girls really, really, really enjoyed the Meg-a-Cakes SO MUCH.
I also provided Treatballs (AKA Meat Treats or Bird Balls), which are the treat I make them all the time—basically the leftover ingredients from the Dog Cancer Diet (chicken usually, brown rice, veggies plus eggs and garlic), cooked in meatball form.
Willow was Fallon's first sister.  We had Willow for a long time before we adopted Fallon, and they coexisted well.  Willow marched to her own drummer and she had a bit of a…unique personality, that's what made her so Willow.
We loved her for it.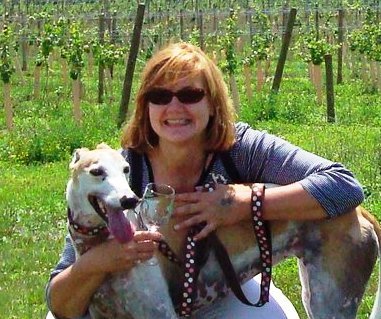 However, Fallon and Willow didn't seem to be tight friends at all.  They got along, they did things together, but we didn't see friendship.
When Willow died, we were all devastated.  Eventually Paul and I picked up the pieces and went on with our lives—but Fallon did not, she changed.  She was clingy.  She would cry when we left the house, and try to barge out the door with us.  She seemed depressed, and wasn't improving.  It was surprising, as they didn't seem that close.  As much as Paul and I were not ready to adopt another dog, it was clear Fallon needed a sibling.  We started going to adoption clinics.  Our group president, Paula, said she had the perfect dog for us—Maggie.  She was so right.
Maggie and Fallon are best friends.  They cuddle and can be close.  They play together.  After Fallon's amputation, Maggie helped her stay active.  She pushes Fallon to a point, but never too far.  She helps Fallon feel comfortable when she is doing things she doesn't want to do, like doctor's appointments.
I am positive that so much of the success we've had with Fallon is that Maggie is part of the team.  Happy birthday, little girl <3.