I find myself oddly OK today—at least no more bent out of shape than is usual for me these days.  Today is Fallon's one year ampuversary.  It's rainy here.  I'm kind of glad.  All my party plans for her centered around the yard, and I am sure we would be there if she was here for the party.  I dreaded this day coming, because I had been looking forward to it for months, to celebrate with Fallon, to treat her and love her on her special day.  I never dreamed we would not have her today.  I got overconfident.  I stayed awake all night dreading today arriving, and thinking I'd be more of a mess than usual, but I'm actually pretty solid right now.  Relatively speaking.
I had a dream a couple of weeks ago, so real that I could feel her soft fur.  She hopped up to me—three legs, I think everyone thinks they get their leg back, but not always.  She stood in front of me with her pretty smile and we hugged and hugged, then we laid down and hugged some more.  I rubbed the spot her leg was, I always did that, and would always cuddle with my hand over it.  She always lay with that side facing up. As I think back, I feel happy that we did that frequently.  Her favorite thing to do was a daily affair.  For that dream, that one brief part of one night and not since, I felt whole again, so wonderful, not awful, as my baseline is now.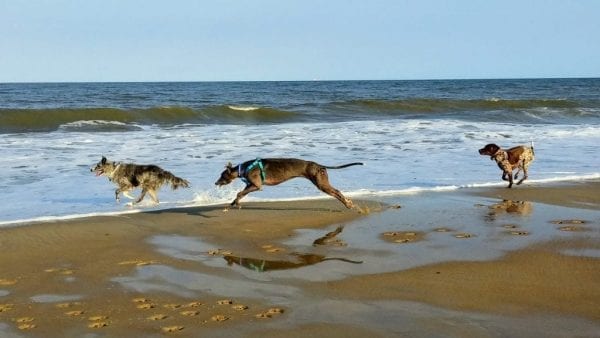 We took a trip to the beach a couple of weeks ago—bittersweet, as this time last year was Fallon's last 4 leg vacation.  In fact, it was the day after we returned that I called my vet and insisted on an x-ray, as she was still limping.  We got the news of her osteosarcoma the following day and our lives changed forever.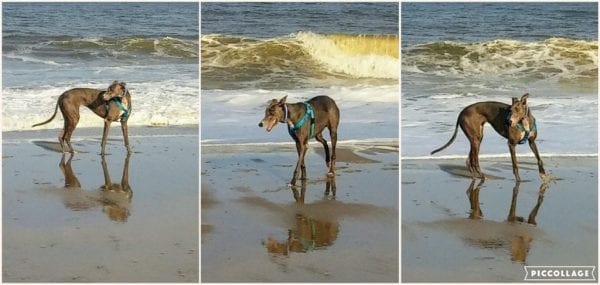 Maggie had a greyt time there.  I think she likes being with other dogs.  She recently stayed with a friend who has 4 greyhounds, and we were afraid she wouldn't want to come home with us—but she eagerly did.  I see another greyhound sometime in our future.  I think Maggie will need to choose her new sibling, just as Fallon chose Maggie…but my ideal dog would be a love sponge just like my pretty Fally.  I am nowhere near ready, but last night I kept thinking—while not sleeping—what if our perfect match is out there?
I have to turn things around, I'm just having some trouble mobilizing.  Crying does get in the way, as does not wanting to leave the house.  I've alienated quite a few well-meaning friends by bursting into tears and running away.  So isolating is easier.  I've been trying to stay pretty together for Maggie.  I'd hate her knowing her mom is crazy.
I have more to say, I'm just not into it right now.  A few weeks ago I was thinking this blog was done, and it made me sad. Well, sadder.   This was our way to help other lost folks who were in the clueless, but educable position we once were when faced with horrible news about their bestest friend. But there's still stuff to share….I think.
So, more to come…once I stop crying.