I can't convey how difficult the past 3 months have been.  Life without Fallon on earth has been quite a transition—as has been life on earth without Fallon.  I still feel a good amount of pain.  There have been tons of challenges, and I have been facing each one with a "fake it 'til you make it" approach, with varying levels of success—mostly low to none.  But I try, I do.
She still sits at my bedside in a wooden box inside of a paper box, this paper box has all sorts of other things in it—her plaster footprint, some charm, a poem, our bill—all put there by Forget Me Not, the business who cremated her.  I reach over to touch her during the night, and visit her during the day.  It brings me some level of comfort.  I have walked around the house just hugging her when I am upset.  And while this sounds horribly, horribly dysfunctional, perhaps borderline crazy–know that I agree with you.   I am entertaining the thought of moving her.   Maybe even today and that is progress.
We have some  shelves set aside for her, I have yet to dust and clean them, because cleaning and moving her there will be just one more step toward this all being real.  But I think about it more and more.  Maybe today.
I had a burst of positive energy last week after seeing an ad for one of those businesses that makes your baby's ashes into a beautiful globe or heart.  I took the pictures to Paul and he's all on board.  So I think we'll do that.  I like the globe and he likes the heart–but I won't fight this one, the heart is greyt.  Red's her color.
I had the idea we'd scatter some of her ashes in the yard—her favorite place on earth, where we spent hours upon hours just laying and hugging.  Paul is in opposition.  We plan to move some day and won't always have this yard.  My counterpoint is that Fallon won't know our new yard, she knows this yard.  This is where she should stay, at least a bit of her.  I'm still working on this one.   I have found gorgeous urns online, and actually spoke with the artist when we were in Dewey Beach for Greyhound Week in October.
He realized I was not ready by my sobbing—but I know where he is when I am.  So wherever we move, the rest of Fallon—what is not in the beautiful globe or heart and in the lawn, will come with us—wherever we go—in the lovely urn.
That's a far as I have gotten.  I am encouraged, though, because any level of forward motion has been a losing proposition lately.  This is progress.  Maybe I'll make more today.  And I concur there are more substantive things to work on, this is just where my aching heart has taken me right now.
Some of you might not know we have gotten another greyhound to be a sister to Maggie.  Her name is Danica.  We call her Dani.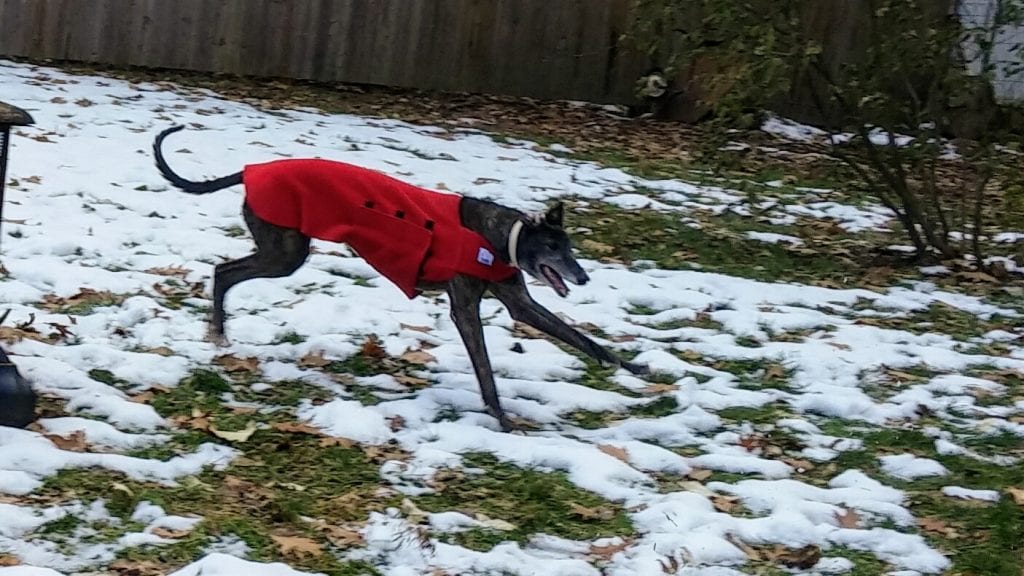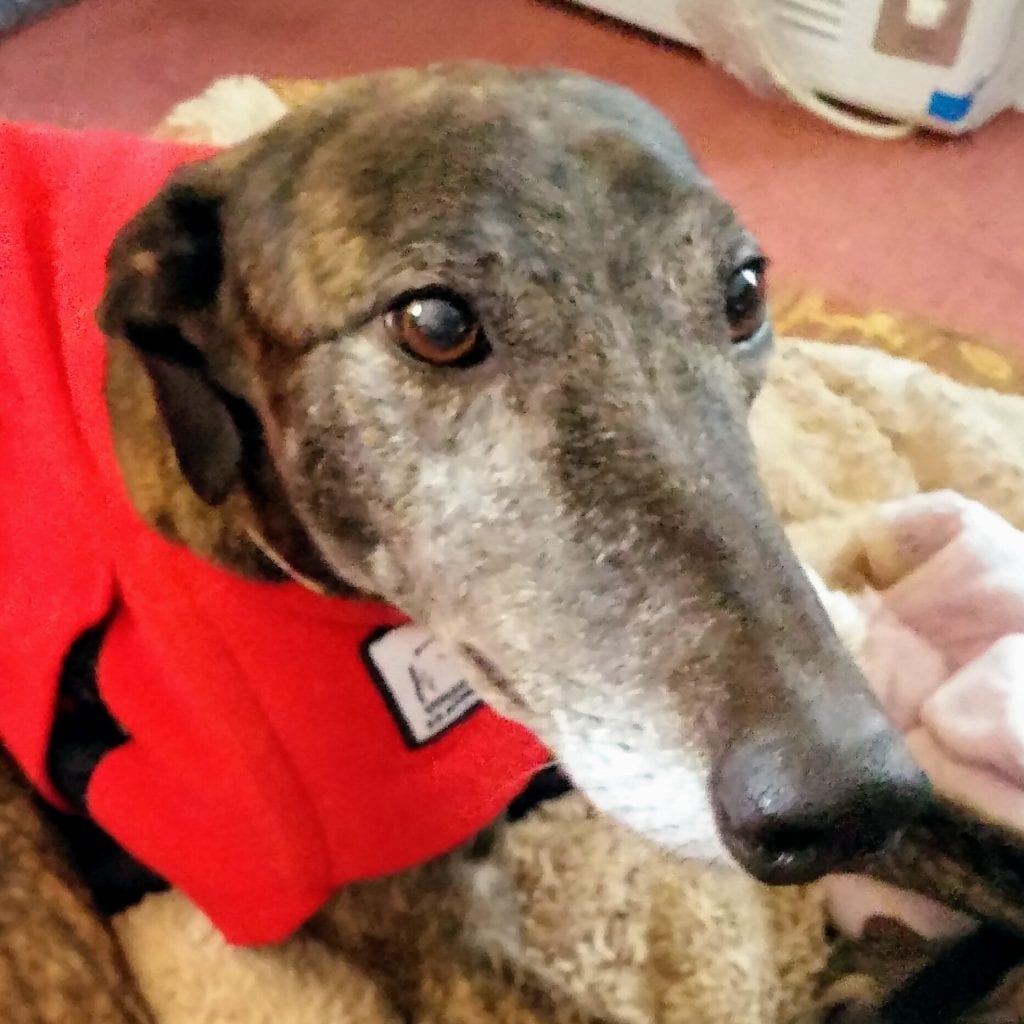 I had been hoping for Fallon to give a sign that she approved of Dani.  I think it came during our annual Christmas visit to Niagara Falls, ON.  We walked and walked, and met many people.  Dani is really Fallon-esque in her friendliness, and tried to make eye contact with everyone, strategically placing herself under their idle hands waiting for attention, whether they wanted this or not.  I was encouraged that she was so much like our angel girl but the one thing that happened that solidified Fallon's approval—in fact, that she may have even paw-picked Dani–was that Dani climbed up on a rail by a fountain to see the water better.  Fallon loved the water, and probably would have tried to jump in.  Dani may have also, except we are alert to all things she does, so we can correct her when she needs it.  That sounds like nothing as I write it.  You probably had to be there and know us and Fallon to really appreciate it, but Paul and I both got it—we looked at each other in tears.  We both really felt our girl then.
I do miss writing here, it is just not as much fun—but we're still here.
Merry Christmas and all the holiday greetings to you for whatever you celebrate this special season <3
Dawn, Paul, Maggie and Dani