Our family took a long weekend vacation to a favorite spot—Niagara Falls, Ontario.  We wanted to get away for awhile, and we finally built up enough confidence to stray semi-far from home.  Fallon has been doing really well, and she seems to feel quite great, so this was a good time to go.
It was so cold in Niagara Falls!!  I expected we would be able to get the girls out for more walks, but between the temperature and icy sidewalks with a lot of salt on them, it was rough getting Fallon too far away from our hotel.  It was still an outstanding vacation.
Our hotel is the Old Stone Inn.  If you're traveling with big dogs and want to be walkably close to everything, this is your place.  There are a few other dog friendly hotels, but not for our big size dog.  They could not be more pet friendly there, all the staff are legitimately excited to meet the dogs.
We each took Maggie out for long walks separately, as she is able to go so much farther.  The black squirrels of Niagara Falls are a favorite of hers, she had a fun time sniffing every tree in the Queen Victoria Park to find one (she was unsuccessful).  Fallon really enjoyed walks close to our hotel.  The hotel lobby was decorated beautifully, and we loved sitting there.  Fallon enjoyed meeting all the people walking through.  We explained her three legs vs four legs quite a bit, and made sure people knew it was nothing to be sad about.  Fallon's amputation took away her pain, and made it possible for her to go on a great vacation.  It also gave us more time with her.  She's rockin' this, and we'll definitely accept her success as long as we are gifted with it.
We were so lucky that my sister and her husband could meet us there.  I miss my family.  Christine and JP had to drop their daughter Claire off at the airport in Toronto, and we were right on the way!  They spent the night, and we went out Friday night to our hotel bar, and got breakfast the next morning.  Not nearly enough time…but I was so happy to see them!!
Paul and I were able to do a lot of walking around ourselves, and on Saturday night, we took a horse drawn carriage to the Floral Showhouse, which is a greenhouse.
We took lots of pictures of light displays and the Falls.  We did this Deck the Falls event where you get food and drink samples at many of the hotels, while admiring all their decorations.  We'll do that again someday.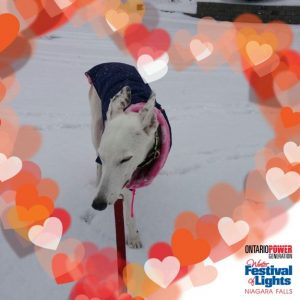 Coming later today—Fallon's wrap brace is in!  This is the brace that will support her right front ankle, which tends to swell.  We have an appointment at 4pm today for our orientation to it, as well as another underwater treadmill session.  Fallon was all energized after the first one and really seemed to enjoy it, so we are excited!  Maggie will also probably go, despite being a handful last time.
I am still working on my plan to change Fallon's diet gradually.  Another hurdle—we free feed Fallon and Maggie, and we'll have to come up with another approach to that.  Definitely do-able, we just need the plan—it will come to me.
More to come…